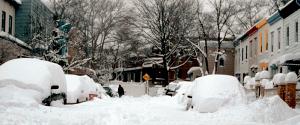 While the danger from winter weather varies across the country, nearly all Americans, regardless of where they live, are likely to face some type of severe winter weather at some point in their lives. Winter storms can range from a moderate snow over a few hours to a blizzard with blinding, wind-driven snow that lasts for several days. Many winter storms are accompanied by dangerously low temperatures and sometimes by strong winds, icing, sleet and freezing rain.
One of the primary concerns is the winter weather's ability to knock out heat, power and communications services to your home or office, sometimes for days at a time. Heavy snowfall and extreme cold can immobilize an entire region.
The National Weather Service refers to winter storms as the "Deceptive Killers" because most deaths are indirectly related to the storm. Instead, people die in traffic accidents on icy roads and of hypothermia from prolonged exposure to cold. It is important to be prepared for winter weather before it strikes.
Winterize Your Home
Winterize your home to extend the life of your fuel supply by insulating walls and attics, caulking and weather-stripping doors and windows, and installing storm windows or covering windows with plastic.
Winterize your house, barn, shed or any other structure that may provide shelter for your family, neighbors, livestock or equipment. Clear rain gutters; repair roof leaks and cut away tree branches that could fall on a house or other structure during a storm.
Maintain heating equipment and chimneys by having them cleaned and inspected every year.
Insulate pipes with insulation or newspapers and plastic and allow faucets to drip a little during cold weather to avoid freezing. Running water, even at a trickle, helps prevent pipes from freezing.
All fuel-burning equipment should be vented to the outside and kept clear.
Keep fire extinguishers on hand, and make sure everyone in your house knows how to use them. House fires pose an additional risk, as more people turn to alternate heating sources without taking the necessary safety precautions.
Learn how to shut off water valves (in case a pipe bursts).
Insulate your home by installing storm windows or covering windows with plastic from the inside to keep cold air out.
Hire a contractor to check the structural ability of the roof to sustain unusually heavy weight from the accumulation of snow – or water, if drains on flat roofs do not work.